Abendrot.
Richard Strauss.
Four Last Songs
Gustav Mahler.
Symphony n°4
concert info.
Warning
: getimagesize(/home/symfok05/public_html/userfiles/2017-2018/JLK (c) Simon_van_Boxtel.png) [
function.getimagesize
]: failed to open stream: No such file or directory in
/home/symfok05/public_html/frontfunc/functions.php
on line
120
Jan Latham-Koenig.
conductor.
A true European at heart (from French, Danish and Polish origin) he studied at the Royal College of Music, London, before going on to win the coveted Gulbenkian Fellowship. His debut conducting Macbeth at the Vienna Staatsoper in 1988 was a sensational success, and catapulted him almost over-night to international fame.
Since then he has been at the helm during many of the world's greatest operatic and symphonic moments, including Aida, Macbeth, La Bohème, Peter Grimes, Tristan, Pelléas et Mélisande,
Die Tote Stadt, Carmen, Turandot and Elektra, and the ballet The Prince of the Pagodas.
He has enjoyed musical directorships with ensembles and organisations including the Orchestra of Porto, the Cantiere Internazionale d'Arte di Montepulciano, Teatro Massimo di Palermo and both the Orchestre Philharmonique de Strasbourg and Opéra National du Rhin. He was the founder and Artistic Director of the Young Janacek Philharmonic.
Since August 2011 he has been Music Director of the Moscow Novaya Opera, and since 2012 also Artistic Director of the Orquesta Filarmónica de la UNAM in Mexico City. From 2013 onwards he has been Artistic Director of the Flanders Symphony Orchestra in Bruges (Belgium).
His numerous guest appearances in opera and concert have included the New Japan
Philharmonic, Tokyo Metropolitan Orchestra, Orchestre Philharmonique de Radio France, Los Angeles Philharmonic Orchestra, the Rundfunk-Sinfonieorchester Berlin, Dresdner Philharmonie Orchester, … He was invited to conduct a number of companies at the Vienna State Opera, Royal Opera House Covent Garden, National Opera Prague, Tokyo National Opera, Götenburg Opera, to name just a few.
close
Symfonieorkest Vlaanderen . Taras Bulba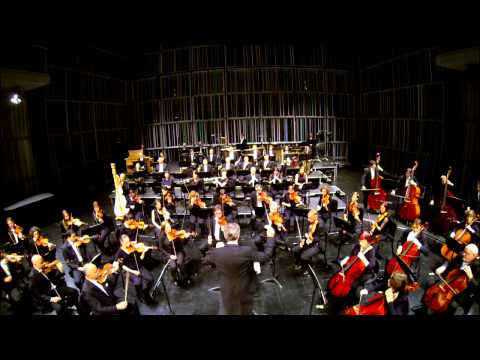 Taras Bulba . Leos Janacek
close
Olga Jelinkova.
soloist. soprano
Olga Jelínková studied at The Prague Conservatory under A. Denygrová and at the Academy of Performing Arts in Prague in the class of M. Podskalský. During studies she was awarded 2nd prize at Dušek's Competition of the Musical Youth. She has debuted in 2002 as Rosina (G. Rossini, The Barber of Sevilla) in the South-Bohemian Theatre in ?eské Bud?jovice. She participated in master classes under Prof. Richard Sigmund in Merano, Italy, where she then, within the Merano Opera Studio, sang Barberina (W. A. Mozart, The Marriage of Figaro) and Frasquita (G. Bizet, Carmen).
Olga regularly cooperates with noted Czech organ player Aleš Bárta, Atlantis Orchestra and The Czech Philharmonic Collegium as a special soloist. In 2005 they together created a CD for Classico, a Danish company, and during December 2008 she took part on the Japan concert tour with them. For Czech radio "Cesky Rozhlas", she recorded two lesser known arials (L. Delibes: La Rosignol, G. F. Händel: Nell dolce d'obblio) with violinist Jitka Hosprova and a full son cycle of Zdenek Lukas Quis? for soprano and violin, which premiered at Rudolfinum in Prague in March 2007.
With the Prague Chamber Opera Olga performed as First Lady (W. A. Mozart, The Magic Flute) while touring in Japan and then with the same ensemble in Germany in the role of The Queen of the Night. She performed as Eurydika in inscenations of Offenbach's "Orfeus in the underworld" on the theatre stage in Pilsen and in The City Theatre in Brno, where she then also sang Madam Herz in "The theatre director" (W. A. Mozart). She has portrayed again The Queen of the Night and Despina (Mozart, Cosi fan tutte) in Silesian Theatre Opava (P. Schaffer, Amadeus). In 2008 she won Ad Honorem Mozart competition at Prague's Bertramka villa and sang Mahler's IV. Symphony with FOK orchestra under the leading of Ji?í Kout. She has participated in master classes under Tereza Berganza in Spanish Santander, where she also took part at concert tour in Spain and France.
In 2009 she won the 1st prize at International Pustina Competition and took part at vocal master classes of Peter Dvorský in Znojmo. In Janacek's Theatre in Brno she introduced Adela in operetta The Bat by J. Strauss and Mozart's The Queen of the Night. In Theater of F.X.Šalda in Liberec performs Olga as Gilda (G.Verdi, Rigoletto) and as Amina (V.Bellini, The Sleepwalker). For the last mentioned role Olga had been nominated to Thalie 2010 Award and sang Amina also with ensemble of Opera na Zamku (Polish Opera at the Castle) in Polish Szczecin and German Ingolstadt.
During June 2010 she performed as Micaëla (G. Bizet, Carmen) in Seoul, South Korea with ensemble of The State Opera Prague. In 2011 Olga became a finalist of the prestigious singing competition Concorso di Canto lirico internazionale per Cantanti lirici – Giacomo Puccini (Giacomo Puccini's International Opera's Singers Competition) in Italian Luca. In the same year she won 1st prize in International singing competition of Antonin Dvorak in Karlovy Vary, the most important classic competition of the Czech Republic, where she has got repeatedly a certificate of merit. Later that year she recorded a vocal of the main heroin in the newest movie Duet by director Jaroslav Brabec. The author of the movie music Jan Jirasek has dedicated to her his new song cycle Voice on Canvas. Olga later recorded that cycle together with the pianist Martin Levicky for the Czech Radio.
She has also added her succesful appearance in the role of Lucia di Lammermoor (G. Donizetti, Lucia di Lammermoor), Nanetta (G. Verdi, Falstaff), Bar?e (B. Smetana, The Kiss), Lisa (E. Kálmán, The Countess Marica), Serafina (R. Piská?ek, The Pearles of The Virgin Serafinka) and The Queen of The Night (Mozart, The Magic Flute) in the Moravian Theater Olomouc. Her cooperation with The National Theatre of Prague started in the role of Mégacles (J. Myslive?ek, L'Olimpiade) and continued with the title role of Nightingale (I. Stravinskij, Le Rossignol) and Konstance (W. A. Mozart, The Abduction from the Seraglio). In the South-Bohemian Theatre she appeared again, this time as the Fire-Pricess-Nightingale (M. Ravel, The Child and The Magic Spells). For Stravinskij's Nightingale Olga had been nominated again to Thalie 2015 Award.
close
Galina Averina.
soloist. soprano
Born in Moscow, Galina Averina graduated from the Russian University of Theatre Arts in 2010 with honours. She immediately accepted a position as Soloist at the Perm State Opera Theatre, with role including Brigitta/'Iolanta', Frasquita/'Carmen', Kseniya/'Boris Godunov', Noemi/'Cendrillon', Ersilia/'Le astuzie femminili' and Annina/'La Traviata'.
She made her international debut in 2013 as Despina/'Così fan tutte' at the Dubrovnik Summer Festival and in the same year took part in the Les Azuriales Russian Festival in Nice and their Young Artists' Competition where she won the Haidee Saretski Prize. Later in 2013 she moved to the UK to continue her studies at the Welsh International Academy of Voice, mentored by Dennis O'Neill, supported by Les Azuriales Opera Trust. She made such a strong impression at masterclasses with Dame Kiri Te Kanawa that she was asked to appear in recital with her at the end of the year at Cadogan Hall in London.
Graduating from WIAV in 2014 she joined the International Opera School of the Royal College of Music and is now in her second and final year, studying with Dinah Harris. At the RCM she sang Pamina/'Die Zauberflöte' and Calisto/'Giove in Argo'. Last November she sang Adele in the RCM's production of 'Die Fledermaus' and this spring Dalinda in Handel's 'Ariodante'. Galina generously acknowledges the support of Kiri Te Kanawa UK Foundation and Independent Opera Voice Scholarship.
Last year she was the youngest finalist in the prestigious Francisco Viñas Competition at the Gran Teatre del Liceu in Barcelona, being awarded Sextio Premio and winning the Audience Prize. Galina Averina is a Samling Artist. She won the Bampton Classical Opera Young Singers' Competition for 2015 and has been awarded a Scholarship from the Drake Calleja Trust.
This autumn will see her at English Touring Opera, singing Atalanta in 'Xerses' and this month she sang Zerlina in Winslow Hall Opera's 'Don Giovanni'. She also appeared with the Trondheim Symphony in Beethoven's Missa Solemnis, conducted by Andrew Parrott and in recital at the Harrogate International Festival. Next year she will sing Beethoven's Symphony No. 9 with the Royal Philharmonic Orchestra and make her Belgian debut on tour with the Flanders Symphony.
"…'Tornami a vagheggiar', sung with startling agility by Galina Averina in this double-cast production. Her bell-like soprano was tested to the full in the ferocious 'Combattuta da più venti' but was perfectly at home in the melting 'Ah! No son io che parlo'." THE GUARDIAN
"The most exciting revelation of all was the singing of Russian soprano, Galina Averina. As Calisto she offered the finest, controlled Handel singing of the evening with a pure, almost old-fashioned voice. Her high coloratura was stunning as was the artistry and musicality of her more sustained singing." OPERA BRITANNIA
"Galina Averina's Adele was exceptional. Her light soprano was technically brilliant, she was a saucy comedienne who held the stage with ease and there were many moments when her singing achieved a Mozartean grace. The audience adored her." CLASSICAL SOURCE
close
Concert info.
This concert season dances towards its finale with romantic, celestial melodies. Central composer Luc Brewaeys waves his mentor goodbye in 'Credeva'. Richard Strauss's 'Four Last Songs' twinkle like a night full of stars. Mahler's 'Fourth Symphony' reflects 'The Heavenly Life'. The farewell to season 16-17 could not possibly sound more blissful.