Katrien Baerts
soprano
Rising young Belgian soprano Katrien Baerts started her musical career with a master's degree in both violin and voice at the Royal Conservatory of Brussels. After graduating with distinction, she joined the Dutch National Opera Academy.

She has been working with conductors such as Jonathan Berman, Reinbert de Leeuw, Richard Egarr and Otto Tausk. She entered the semi-finals at the prestigious Queen Elisabeth Competition for Voice in 2011.

Being a versatile singer, Katrien performs in opera and oratorio, as well as in contemporary and chamber music. Since 2006 Katrien frequently gives recitals in duo with her regular piano accompanist Bart Verheyen.

Past engagements included amongst others Dvorak's Te Deum with the Netherlands Radio Philharmonic Orchestra, Trois poèmes de Stéphane Mallarmé by Ravel with the Asko|Schönberg Ensemble, the world première of Rob Zuidam's Requiem. In 2015 Katrien Baerts made her debut at the Dutch National Opera in Alban Berg's Lulu with the Royal Concertgebouw Orchestra and she was soloist in Mahler's Fourth Symphony and Berg's Sieben frühe Lieder with the BBC Philharmonic in Manchester.

In 2016-2017 Katrien Baerts performed in Japan in a production of The House of the Sleeping Beauties with Opera House LOD, she sang Britten's Les Illuminations in Switzerland and performed with the Royal Northern Sinfonia, Klangforum Wien, Netherlands Chamber Orchestra and Residentie Orkest. Besides, Katrien Baerts performs chamber music with Nieuw Amsterdams Peil, the Ferschtman Trio as well as several song recitals in the Netherlands and abroad.
"From far away soprano Katrien Baerts emerges. Her singing fills the depot with magnificent sounds and vibrant emotion. The highlight!"
(Knack Focus)
Concerts with Katrien Baerts.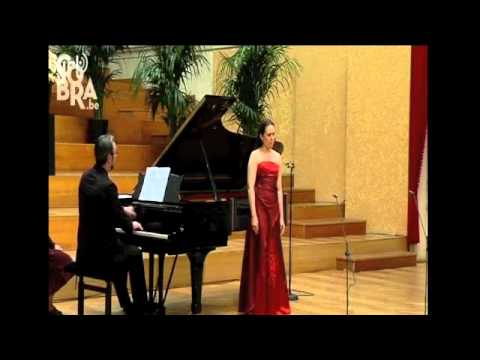 Katrien Baerts during the Queen Elisabeth Music Competition
Katrien Baerts during the Queen Elisabeth Music Competition