Nareh Arghamanyan
piano
Highly acclaimed for her "Elegance, humour, fiery imagination", "unique sensual narrative tone", "precise stylistic approach", "dazzling technique", "charismatic stage presence", and described as a "major, major, major talent…potential superstar" by Musical America Magazine, sensational pianist Nareh Arghamanyan, who is still in her twenties, has shaken the music world and has been praised worldwide by various critics, concert presenters, conductors, and audiences alike.
From Musikverein Vienna to Lincoln Center New York, Nareh dazzles audiences in prominent halls all over the world. Having more than 30 various concertos in her repertoire, Nareh has already performed with many of the world's prestigious orchestras. Nareh frequently gives recitals in major cities throughout Asia, Europe and North America. She is a regular guest in renowned festivals. Many of the world's esteemed conductors have collaborated with Nareh including Sir Neville Marriner, Alain Altinoglu, Yasuo Shinozaki, Olari Elts, James Gaffigan and Michael Francis.
Following her successful debut solo album released in 2009 with Canadian Analekta Label, Nareh signed with Pentatone Records in 2011, releasing a CD of solo works by Rachmaninov to a great critical acclaim. Her CD's were included in some of the most critical music magazines as the recording of the year, best new classical album, artist of the year, outstanding choice, best upcoming artist.
Since 6 years old, Nareh was hailed as a "Prodigy" winning more than 18 international awards and prizes. Her major breakthrough came at the age of 18, when she won the 1st prize and all special Prizes at the Montreal International Musical Competition in 2008, thus, making a history as the youngest winner ever.
Born in Armenia in 1989, she studied with Alexander Gurgenov at the Tchaikovsky Music School in Yerevan and at the age of 15 became the youngest student to enroll in the University of Music and Performing Arts in Vienna in the class of Heinz Medjimorec. Nareh continued her studies with Avedis Kouyoumdjian as well as with Arie Vardi in The Hanover University of Music and Drama. Nareh speaks 4 languages fluently and currently resides in Vienna.
"A major, major, major talent? potential superstar."
(Musical America Magazine)
Concerts with Nareh Arghamanyan.
thu 07.06, 20:00
Concertgebouw, Bruges
Tickets
fri 08.06, 20:00
St. Johns International School, Waterloo
ticket info
sun 10.06, 15:00
deSingel, Antwerp
Tickets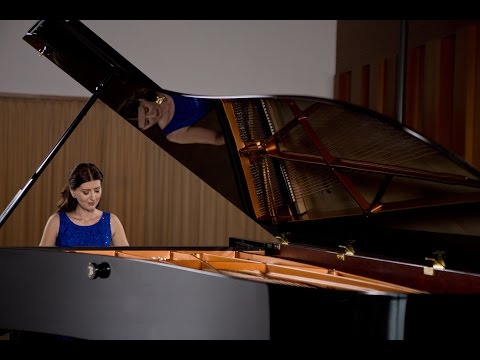 Nareh Arghamanyan plays Rachmaninov
Nareh Arghamanyan plays Rachmaninov